About / Presidents
Dr. Donald Hoskins MBE – President
Dr Donald Hoskins MBE has been President of Redbridge Music Society since 1995. Following graduation at the University of Wales, he has enjoyed an outstanding and versatile career as a university academic, administrator, conductor and pianist appearing with Eduard van Beinum, Clarence Raybould and other distinguished conductors. He commenced his teaching career in the Midlands where he also conducted choral and orchestral concerts and performed with the Birmingham Philharmonic Orchestra. After a period as a lecturer in music at Eastbourne College of Education, he became Head of the Music Centre at the University of East London. In addition to this role at the university he performed at festivals and organised and conducted many prestigious events with international guest artists. He established annual concert band courses giving performances in the UK and abroad.
In 1985, he formed the Aminta Chamber Orchestra working with guest artists including Jack Brymer, Clio Gould, Dame Moura Lympany, Barry Tuckwell and Manuel Villet, conducting every performance given by the orchestra. He has appeared as guest conductor with the BBC Concert Orchestra, London Mozart Players, Royal Philharmonic Concert Orchestra and the London Philharmonic Choir and his musical activities have taken him to France, Germany, Greece, Russia and the USA where he has also been a visiting professor of music.
His doctorate was awarded for research into eighteenth and early nineteenth-century English musical theatre and in 2003 he was also awarded an Honorary Doctorate in Music by the University of East London. In 2005 the London Borough of Barking and Dagenham conferred upon him the Freedom of the Borough for his outstanding musical contribution to the community over thirty-eight years and in 2007 Dr Hoskins was awarded the MBE by Her Majesty the Queen for Services to Music.
Past Chairman of Redbridge Music Society for many years, Colin Pryke, said of Donald Hoskins "I first met him at the Stratford Precinct of the University of East London in 1990 and soon realised that in him we had found a person who had a great knowledge of and appreciation for music and who was keen to spread such an appreciation to everyone around him, never for personal gain but for the satisfaction of making others happy. When our President, Derek Hammond-Stroud, retired the Committee were unanimous in choosing Dr Hoskins to succeed him and his gracious acceptance of our invitation was the start of the collaboration between us which still exists. He has been the most wonderful President, giving us advice on artists to invite and perform for us, plus performing himself without accepting a fee or even expenses."
Manuel Villet – Vice-President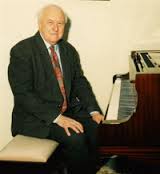 Our Vice President Manuel Villet, M Mus, was born and educated in South Africa where, at Cape Town University, he obtained a B Mus degree and studied piano with Lili Krauss, the world-renowned concert pianist. Thereafter he studied with Nadia Boulanger in Paris. During these years he appeared as soloist both in recitals in Great Britain, France and South Africa and with leading orchestras. He performed the Beethoven 4th Piano Concerto with the London Philharmonic Orchestra, conducted by Sir Adrian Boult, the Chopin E minor concerto with the Bournemouth Symphony Orchestra, conducted by Sir Charles Groves and the Liszt E flat Concerto with the BBC Northern Orchestra, conducted by George Hurst.
He was accompanist to the famous violinist Lord Yehudi Menuhin during his South Africa tour of 1956 (Festival of Johannesburg) and was subsequently invited by Lord Menuhin to be his accompanist again in 1957 in Vienna. During the 1980's Manuel Villet appeared regularly as solo recitalist at London's South Bank concert venue and in recent years was soloist with the Aminta Orchestra of London, conducted by Donald Hoskins, at St Martin-in-the-Fields where he performed concertos by Mozart, Mendelssohn and Liszt. He appeared again as soloist with the Royal Philharmonic Concert Orchestra playing the Brahms 2nd Piano Concerto in January 1996 at the University of East London.
For many years Manuel has lived locally in Barking and although now formally retired, still gives recitals on occasions and has often played for us at our annual Christmas parties.