Current Programme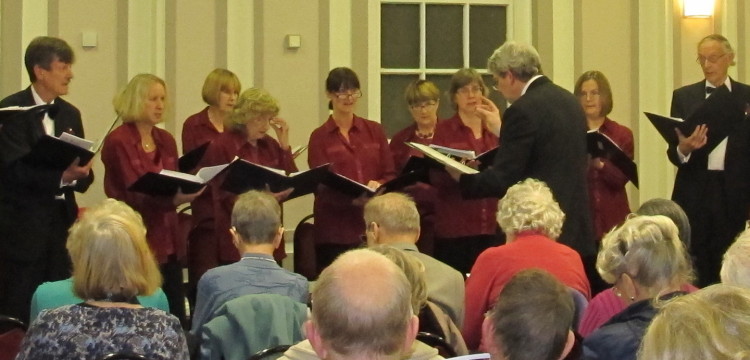 An Evening of Christmas Music with Chorale Cantando
Tuesday 21st October 2014
Redbridge Music Society's second event of the 2014-15 season is an evening of Christmas Carols and seasonal readings given by Chorale Cantando – Redbridge's popular and sought-after local choir, directed by organist and conductor Philip Norman.
The carols and readings will be followed by our annual Christmas Party with plentiful complimentary seasonal food, wine and soft drinks. In addition, we will be holding our traditional Christmas Raffle. Do come along to this event and start your run-up to the Christmas festivities in a friendly and convivial atmosphere.
Lambourne Room, Redbridge Town Hall, Ilford, IG2 1DD (Oakfield Road entrance) 8:00 pm
Tickets will be available at the door: £10 (Visitors) £7 (Members)
Biographies
CHORALE CANTANDO
Chorale Cantando is a local ensemble of sixteen experienced singers who specialise in unaccompnaied singing. The choir was formed in 1997 and has sung at many garden fete, private functions, weddings and church services, often raising funds for charities and churches. The choir hsa a wide repertoire ranging from anthems, masses and motets to light music and novelty songs. Each concert is interspersed with appropriate readings which can be amusing, serious or contemplative; the readings on this particular evening will obviously have a strong Christmas flavour!
PHILIP NORMAN
Philip is the conductor of Woodford Symphony Orchestra; The Questors Choir; and Chorale Cantando. He is organist of der Deutsche Evangelisch-lutherische Kirche St. Marien mit St. Georg in London and regularly works and cooperates with both amateur and professional singers and musicians. He has a specialized and sympathetic knowledge of the needs and capabilities of amateur musicians and singers and arranges and composes music specially for amateur groups. Amongst other qualifications Philip is a Fellow of the Royal College of Organists (FRCO).
As a choral conductor, Philip has directed many works including the Beethoven C major Mass in C Major*, the Bruckner and Cherubini requiems, Handel's Messiah and Samsom, and the Rossini Stabat Mater. As an orchestral conductor, he has directed much of the standard classical repertoire including the symphonies, concertos and orchestral works of Beethoven, Brahms,Mozart, Haydn, Schubert and Dvorak.
Philip has given many organ recitals in such places as the Chester, Southwark and Rochester Cathedrals and many parish churches in the UK and Norway. His repertoire has ranged from Renaissance pieces, through the great works of Bach and the German masters, to Romantic works by Rheinberger and Liszt, and up to and including the Twentieth century.
He has toured extensively across Europe as a conductor, organist and accompanist and in May 2004 he organised the first Sangerstevne in Great Britain based on the large choral festivals held in Norway. Philip organises choral workshops and often acts as a tour manager for visiting foreign choirs, undertaking as much or as little of the organization as is necessary to ensure a good experience for the visitors.