Current Programme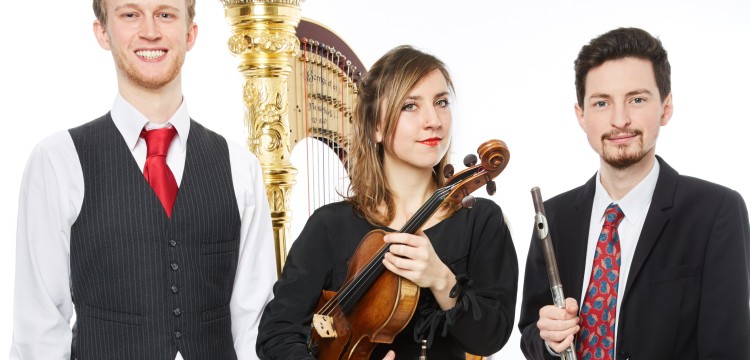 An Evening with the Pelleas Ensemble
Tuesday 23rd May 2017
Pelleas Ensemble Recital Programme 23 May 2017
Tuesday 23 May 2017, Churchill Room, Wanstead Library, Spratt Hall Road, Wanstead 8:00 pm
Tickets will be available at the door: £10 (Visitors); £7 (Members)
Complimentary light refreshments will be served during the interval
The Pelleas Ensemble is an award-winning and sought-after 'harp, viola and flute' trio of young players who have recently performed at St John's Smith Square and the Wigmore Hall. Tonight they will play music spanning over four centuries with music from Bach and Leclair to Ravel and Richard Rodney-Bennett. This event will be preceded by the society's AGM (members only: from 7:30 to 7:50 pm)
Biographies
The Pelléas Ensemble – Luba Tunnicliffe (viola), Oliver Wass (harp) and Henry Roberts (flute) – has received much recognition and acclaim since it was formed at the Guildhall School of Music and Drama in 2011 whilst the players were still students. They were winners of the 2017 Elias Fawcett Award for Outstanding Chamber Ensemble at the Royal Overseas League Competition and in 2016 won both the Grand Prize and the Audience Prize in the St Martin-in- the-Fields Chamber Music Competition. In 2015 they won First Prize at the British Harp Chamber Music Competition and have recently been selected as Tillett Trust Young Artists. Individually, Luba is at present kindly supported by Making Music's PDGYA ('Philip & Dorothy Green Young Artists') scheme of which she is a 2017 award winner and Oliver is currently giving recitals at St John's Smith Square as a St John's Smith Square Young Artist. Henry has worked with prestigious conductors such as Sir Antonio Pappano and Yan Pascal Tortelier
In November 2016, they made their debut at the Wigmore Hall, at which they were praised by Seen and Heard International for their "captivating vitality" and "effortlessness and delicacy" They have given numerous recitals at other London venues including St John's Smith Square and have also appeared live on BBC Radio 3's 'In Tune'. The players take communication with their audiences very seriously and have established a reputation for performing their recitals from memory, which they believe creates an immediate and more intimate connection with their listeners. They aim to make every listener at their recitals feel that the flute, viola and harp are being played "just for them" and for nobody else.
The combination of flute, viola and harp is somewhat unusual and repertoire written specifically for such a combination is relatively rare. However, this provides the ensemble players with the opportunity to perform many arrangements of existing works in ways where they can explore many types of sound worlds and textures. The players are dedicated to performing new music; they have recently premiered new works and have also commissioned a number of pieces, some with a very strong jazz influence which, they hope, will appeal to younger audiences. One recently commissioned work is by jazz bass player and composer Misha Mullov-Abbado, son of violinist Viktoria Mullova and the late Claudio Abbado.