Current Programme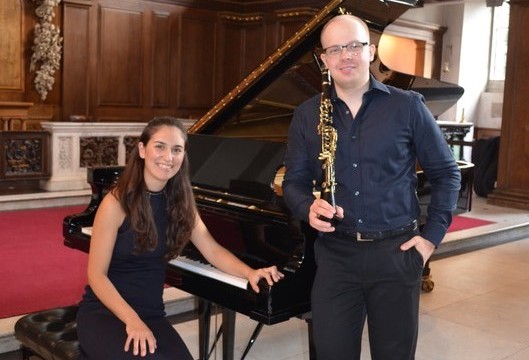 Chamber recital: Matthew Scott (clarinet) & Christine Zerafa (piano)
Tuesday 20th March 2018
TUESDAY 24 APRIL 2018, Churchill Room, Wanstead Library, Spratt Hall Road, Wanstead 8:00 pm
Tickets will be available at the door: £10 (Visitors); £7 (Members)
Complimentary light refreshments will be served during the interval
Young British clarinettist Matthew Scott regularly performs solo and chamber recitals for music societies and festivals throughout the UK. He and his chamber group Ensemble Mirage were selected as 2016/17 St. John's Smith Square Young Artists and, more recently, Matthew was selected as a Park Lane Group Young Artist together with his duo partner Christine Zerafa, who will be collaborating with him this evening. Matthew and Christine will perform works including those by Brahms, Debussy, Poulenc and Penderecki.
Biographies
MATTHEW SCOTT
Prior to music college, Matthew studied privately with the well-known clarinettist and teacher David Campbell. Matthew subsequently received a number of awards and was a member of the multi award winning Bromley Youth Music Trust, with whom he made 5 summer tours to Europe. He made his concerto debut in June 2009 playing Weber's Clarinet Concerto No.2 with Bromley Youth Symphony Orchestra and was invited back to play the Mozart Clarinet Concerto in April 2012 at the Derek Wallace Memorial Concert.
In 2013 Matthew graduated with a 1st Class honours degree from the Royal Academy of Music, followed by an MA with Distinction and a DipRAM in 2015. He was awarded a Full Scholarship for the duration of the undergraduate course and was generously supported by The Countess of Munster Musical Trust and The Greenbank Scholarship during his postgraduate studies. Matthew played principal positions in many of the Royal Academy orchestras and ensembles on the whole range of clarinets – Bb, A, C, Eb, Alto, Basset Horn, Bass and Contrabass.
Matthew regularly performs solo and chamber recitals throughout the UK and has performed at many of the major London venues such as Kings Place, St. John's Smith Square, St. Martin-in-the-Fields, Queen Elizabeth Hall and Wigmore Hall. He has performed in many public masterclasses given by eminent teachers and performers including David Campbell, Karl Leister, and Andrew Marriner and has also appeared on two acclaimed CDs.
Matthew works regularly with duo partners Daniel King Smith and Christine Zerafa with whom he is currently a 'Selected Artist as Matthew Scott and Friends' for Making Music. He is a former Artist for both Making Music's Philip and Dorothy Green Award for Young Concert Artists and The Countess of Munster Musical Trust Recital Scheme.
Matthew is founding member of the prize-winning wind quintet Ensemble Mirage, a dynamic flexi-ensemble based in London. Ensemble Mirage has performed at music festivals and venues around the UK and have made collaborations with groups such as the Delmege and Fitzroy Quartets, the contemporary ensemble Khymerikal and contemporary collective NonClassical.
Matthew has recently been selected as part of the Bournemouth Symphony Orchestra's new initiative led by disabled musicians, the Change Makers Ensemble'. With dual diagnoses of Asperger's Syndrome and OCD, Matthew firmly believes that such conditions need not be a barrier to a successful career in music and he will be working to promote awareness of High-Functioning Autism in the music industry through the activities of the ensemble; particularly in the orchestral sector.
CHRISTINE ZERAFA
Maltese pianist Christine Zerafa is based in London and has appeared as a soloist and chamber musician in many venues in Malta, USA and across the UK. She has appeared frequently at all major London venues including the Wigmore, Royal Festival and Royal Albert Halls and St John's Smith Square. She has performed live on BBC Radio 3 and has been recipient of many awards including the Schumann Lieder accompanist prize, the RNCM Clifton Helliwell prize and the RAM Scott Huxley prize for piano accompaniment. She has Master of Music degrees in solo performance and in piano accompaniment (distinction) and is currently undertaking a PhD in performance at the Royal Academy of Music where
she is focussing on her role as a collaborative pianist via a number of projects. Christine has been kindly supported by the Malta Arts Scholarship and the BOV Joseph Calleja and Janatha Stubbs Foundations; she has a Silverstone Bursary and a Gilling Family Scholarship.