Current Programme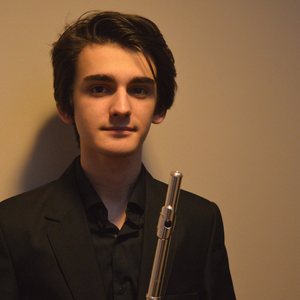 Flute Recital by Daniel Swani
Thursday 27th April 2017
Daniel Swani Recital Programme 27 April 2017
Thursday 27 April 2017, Churchill Room, Wanstead Library, Spratt Hall Road, Wanstead 8:00 pm
Tickets will be available at the door: £10 (Visitors); £7 (Members)
Complimentary light refreshments will be served during the interval
FLUTE RECITAL by DANIEL SWANI
Daniel is a very talented local young flautist. He is currently studying at the Purcell School and will be continuing his studies at one of the London Music Colleges in the Autumn of 2017. He appeared at the Wigmore Hall in 2016, has performed live on BBC Radio 3 and was winner of the Stratford and East London Musician of the Year 2014. Tonight, accompanied by pianist Cathy Davis, he will play a wide range of music from CPE Bach and Sammartini to modern composers such Hans-Martin Linde, Bob Margolis and Paul Leenhouts.
Entrance fee: £7 (members) £10 (visitors)
Biographies
DANIEL SWANI
Daniel was born in 1999 and started flute and recorder lessons at the age of 10. Whilst attending Woodbridge High School, he studied for five years at Redbridge Music School and was principal flute in the Redbridge Music School Symphony Orchestra. Daniel currently studies flute with Anna Pope and recorder with Barbara Law at The Purcell School where he holds a government MDS scholarship. On Saturdays he attends the Junior Royal Academy of Music where he was awarded the senior woodwind prize. He is principal flute in the Junior Academy Symphony Orchestra and also a member of the recorder consort.
He is currently a member of the National Youth Orchestra of Great Britain and was previously principal flute with the London Schools' Symphony Orchestra. With these orchestras Daniel has performed at London's Royal Festival and Albert Halls and the Barbican Centre; he has also participated in a tour of Sweden. This year he became a London Philharmonic Orchestra Junior Artist taking part in a programme that provides invaluable career development for promising young artists.
In 2012, Daniel was given the opportunity to perform alongside members from the London Symphony Orchestra (LSO) at the London Olympics Opening Ceremony at Stratford. In May 2014 he again played alongside the LSO at their 2014 Open Air concert in Trafalgar Square under the internationally-famous conductor Valery Gergiev.
As a soloist, Daniel has given recital performances at London's Wigmore Hall and at Warwick University and this year he has been invited to perform for the Leeds International Concert Series. Daniel is a keen chamber musician and has played in many baroque ensembles on recorder and flute. In November 2016 he performed live on the BBC Radio 3 drive-time show In Tune as part of the Chineke Foundation Junior Wind Quartet.
Daniel is particularly grateful for the generous support of The Walter Bergman Fund and The Felicity Belfield Trust. Recently, he was awarded a scholarship offer to study at the Royal Academy of Music as a full time student and will take this up in September 2017.
Daniel's ambition is to be a performing musician and to have a seat in a top London orchestra. He is an outstanding player both technically and musically and many would agree that eventually playing in a major London orchestra is a foregone conclusion for such a talented young man.
CATHY DAVIES
Cathy is a long-established local piano accompanist. She has a wide knowledge of many repertoires and currently is in much demand.
Cathy is a piano teacher at Woodford Green Preparatory School, Bancroft's School (Woodford Green) and Trinity RC High School. She is an official accompanist for the Stratford and East London Music Festival and also Manager of the West Essex Music Co-operative. She has a great deal of experience of accompanying musicians for all grades of music examinations (from beginners to diploma level) and for concerts and chamber recitals.
In addition to her work as an instrumental and vocal accompanist, Cathy is a regular accompanist for choirs and for ballet, tap and modern dance classes. She is particularly delighted to accompany Daniel this evening