Current Programme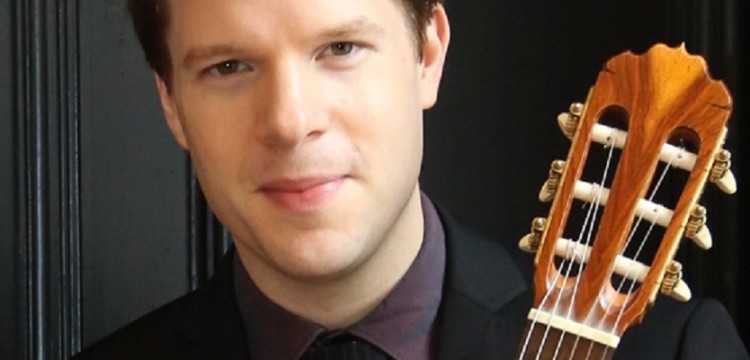 Guitar Recital by Adam Brown
Thursday 22nd February 2018
Tuesday 22 May 2018, Churchill Room, Wanstead Library, Spratt Hall Road, Wanstead 8:00 pm
Tickets will be available at the door: £10 (Visitors); £7 (Members)
Complimentary light refreshments will be served during the interval
The event will be preceded by a short Annual General Meeting of Redbridge Music Society (members only) from 7:30 to 7:50 pm
We are delighted to welcome back to the society guitarist Adam Brown. Adam's recital will present the 'intoxicating rhythms and seductive dances' of Latin America and will include works by composers such as Nazareth, Villa Lobos, Lauro, Callado, Barrios and Rodriguez whose works will highlight the guitar's intimate tone. Just prior to the recital, the society will hold its AGM from 7:30 to 7:50 pm.
Biography
London-based guitarist Adam Brown was born in Scotland and studied with Phillip Thorne at the City of Edinburgh Music School before starting studies with the internationally famous guitarist Carlos Bonell as a Foundation Scholar at the Royal College of Music in London, where he obtained a BMus (Hons) degree and several prestigious awards. He continued his studies with Sharon Isbin at the Juilliard School in New York City where he obtained a Master of Music degree and where he subsequently became the first guitarist to receive the Artist Diploma, the Julliard School's most prestigious performance award. He then went on to earn a Doctorate in Musical Arts at the University of Southern California (Los Angeles) where he studied with the celebrated guitarists William Kanengiser and Pepe Romero. Kannegiser said of Adam: "Adam Brown is a guitarist of deep musical understanding and expression. His intelligence and commitment consistently make for compelling and illuminating listening experiences."
Adam has performed extensively throughout Europe, the United States and South America and has given recitals at venues including the Lincoln Center's Alice Tully Hall (NY), the 92nd St.Y-Tisch Center for the Arts (NY), St. Martin-in-the-Fields, the Purcell Room, and the Wigmore Hall. He has also appeared at such renowned music festivals as Aspen (USA), Spoleto (Italy) and the International Guitar Festival at Kings Place in London. He recently performed throughout the United Kingdom as a Making Music Selected Artist.
Adam has made a number of albums: The Rebels Within, (his first solo album) features four twentieth-century masterpieces that fuse progressive compositional techniques with aspects of archaic musical structures and language. Gladios, released in 2010, presents the melodic lyricism and dynamic rhythmic interplay of music from Latin America and Without Limits – An American Century of Music for Guitar (released in 2013) highlights the guitar's pre-eminent role in America's cultural life by presenting a number of contemporary genres that cross boundaries between classical and popular music